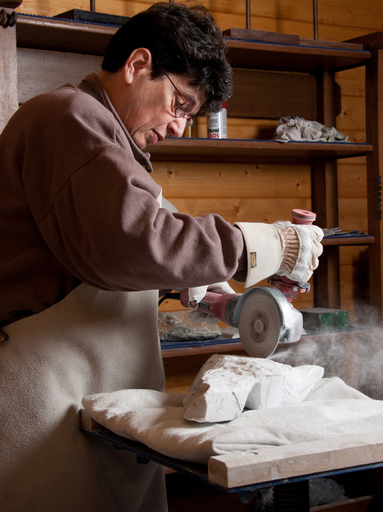 Welcome at the site of Carolien Magnus
Carolien (1945) is a sculptor and makes stone sculptures. Her work is semi-figurative and abstract. She starts out from the character of the stone and looks for broad lines and tension between planes and curves. The work brings about a relation with the stone. Watching and feeling her way lead to a final result that had to be just like that. This process keeps amazing her.
Till 1996 she worked as a sociologist. At one stage she realized that designing was more important to her than research and policy making. She started with a two year course in Photography. She attended workshops with sculptor Kees Verwey in Amersfoort. After that she completed her studies at the Vrije Academie voor Beeldhouw Kunst (VABK), a 3 years education in which people learn to reflect on themselves by studying filosofie, sculpturing, drawing, arthistory and attending a variety of workshops. She works in her garden atelier in Amersfoort.
She is a member of Gallery Absoluut in Amersfoort, an active artist group and gallery and she is a member of The Art Guild in Leersum. Besides, Carolien plays the flute in several ensembles.